E-Shoes // Dance for Future
Product Design and Development
2019
Pictures by Betiana Pavón
The E-Shoes are a Smart Product designed to track the movement of a HIP HOP dancer and create different digital patterns while dancing. The concept is to use the body as an instrument to translate feelings and emotions into a Digital Street Art taking the performance to another level.
Final Project Fabricademy 2019
3D print over textiles, Grashopper, Shoes Making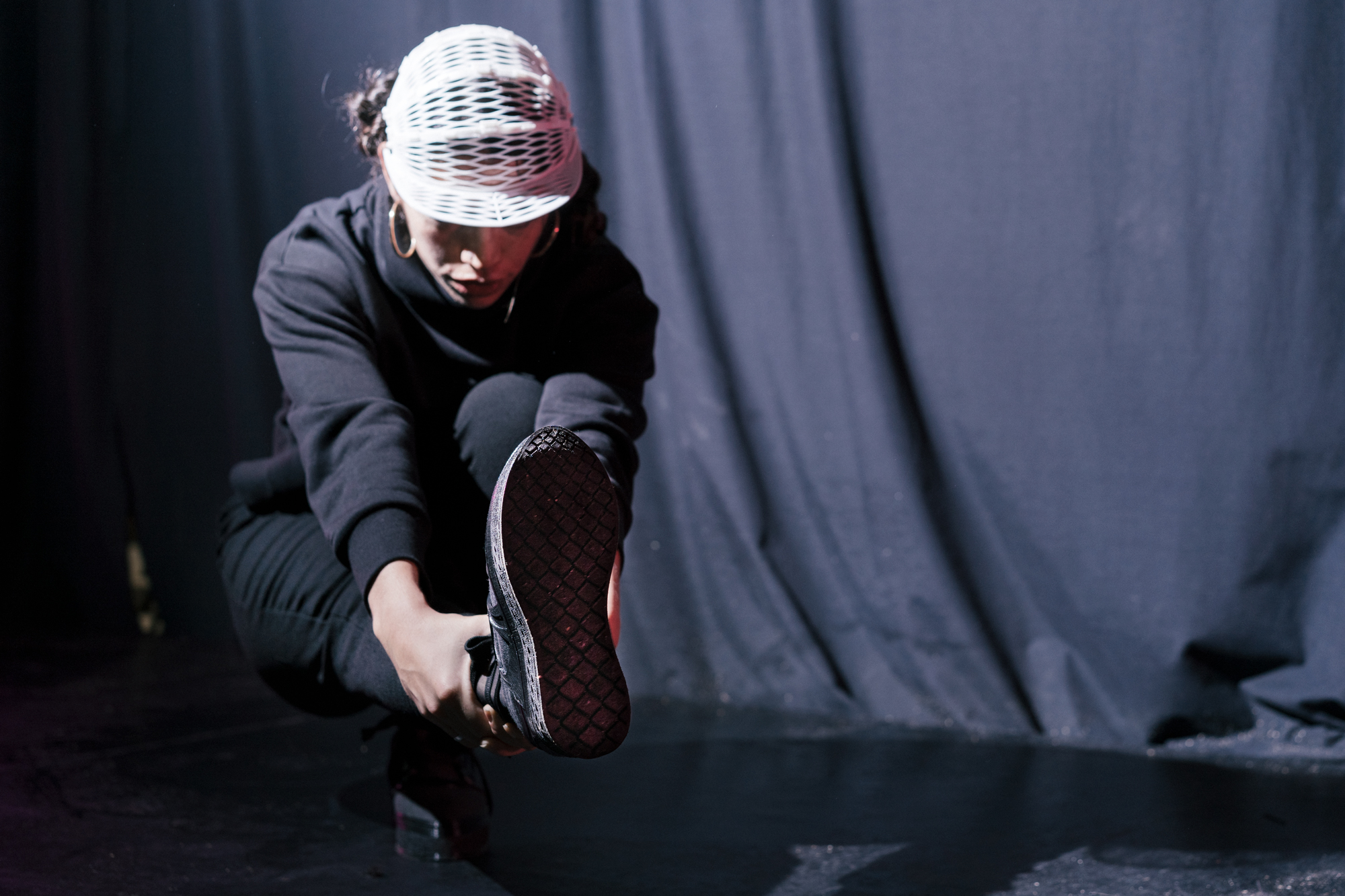 Pictures of the first E-shoes performance in Open Night Poblenou 2019 at IAACDancer: Jennifer Jaime / Hat Alaska Accesorios / Picture Marcel Rodriguez / Graphics by Juan Gómez
The Smart Shoes track the movement of the dancer feet in real time using acceleration/gyroscope information translated into live graphics according to the dancer´s choreography. The result is a live Street Dance Performance creating a new interaction between the dancer, technology and spectator in any scenario.
This product is made entirely using Digital Fabrication. The sole has a parametric design printed with Filaflex. The upper part is printed with the same filament over fabric. The electronic system is a soft connection circuit including a 3xis sensor connected wireless to the digital graphic interface and a rechargable battery.
Testing movement in real time and visual pattern reaction
Graphics by Juan Gómez



Technology is changing the way we experience life and the way we express our thoughts which gives us an opportunity to explore how to use the body into the creative process and its relation with the digital world in the upcoming future and the emerging social inclusive market. I imagine a visual and ephimereal projection on any street wall of a random city like Los Angeles made in real time from a dancer in London. The principal goal is to create an interaction where dancing is taking to another level and the connection with the audience is beyond any disabilities.


Film makers Marcel Rodriguez, Lina Sofía Córdoba and Manuela Reyes // Video editor Ana Correa

Winner RESHAPE 2prize Smart Product - BCN 2019
Finalist Digital Made - Altaroma - Italia 2019
Finalist 3D Pioneers Challenge - Alemania 2020
Exhibition: Re/Barcelona Sustainable Fashion Global 2019
Published Book: Speculations de Kazuya Kawasaki pág.257

Runway Altaroma - Digital made contest 2019